Research Infrastructure Improvement Program
EPSCoR uses three major investment strategies to achieve its goal of improving the R&D competitiveness of researchers and institutions within EPSCoR jurisdictions. To see if you are eligible to apply, view the RII eligibility page and eligibility map.  Read about current opportunities below:
Letter of Intent due date(s) (required) (due by 5 p.m submitter's local time): July 19, 2022
Full Proposal due date(s) (due by 5 p.m. submitter's local time): August 22, 2022
RII Track-1 awards provide up to $4 million per year for up to five years. They focus on improving the research competitiveness of jurisdictions by improving their academic research infrastructure in areas of science and engineering that are supported by the U.S. National Science Foundation and are critical to a particular jurisdiction's science and technology initiative or plan. These areas must be identified by the jurisdiction's EPSCoR governing committee as having the best potential to improve the jurisdiction's future R&D competitiveness. See Solicitation 22-599 for more information.
Letter of Intent due date(s) (required) (due by 5 p.m. submitter's local time): December 20, 2022
Full Proposal due date(s) (due by 5 p.m. submitter's local time): January 24, 2023
RII Track-2 Focused EPSCoR Collaborations (FEC) provides two types of collaborative awards:
Up to $1 million per year for up to four years for collaborations between two EPSCoR jurisdictions
Up to $1.5 million per year for up to four years to a consortium of three or more EPSCoR jurisdictions.
These awards build interjurisdictional collaborative teams of EPSCoR investigators in scientific focus areas consistent with NSF priorities. Please visit the following links for more information:
Full Proposal due date(s) (due by 5 p.m. submitter's local time):
RII Track-4, NSF: April 11, 2023
RII Track-4 @NASA: April 11, 2023
Track-4 EPSCoR Research Fellows provides opportunities for early career and non-tenured and tenured assistant/associate professor faculty to further develop their individual research potential through extended collaborative visits to the nation's premier private, governmental, or academic research centers. Through these visits, the EPSCoR Research Fellows will be able to learn new techniques, benefit from access to unique equipment and facilities, and shift their research toward transformative new directions. The experience gained through the fellowship is intended to provide a foundation for research collaborations that span the recipient's entire career. These benefits to fellows are also expected, in turn, to enhance the research capacity of their institutions and jurisdictions. See Solicitation 23-535 for more information.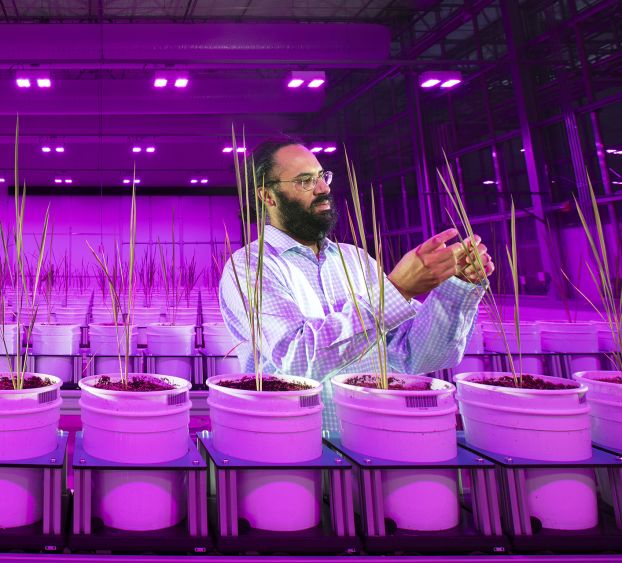 Credit: University Communication / University of Nebraska-Lincoln
Co-funding of disciplinary and multidisciplinary research
EPSCoR often co-funds proposals submitted to other NSF programs if the applicant is located in an EPSCoR jurisdiction. The proposals selected for this funding have been merit reviewed and recommended for award, but could not be funded without the combined support of EPSCoR and the co-funding directorates. Co-funding leverages EPSCoR investment and facilitates participation of EPSCoR scientists and engineers in NSF-wide programs and initiatives. 
Workshops and outreach
EPSCoR funds workshops, conferences and other community-based activities to explore opportunities in emerging areas of science and engineering, and to share best practices in strategic planning, diversity, communication, cyberinfrastructure, evaluation and other areas of importance to EPSCoR jurisdictions (See NSF 19-588).
EPSCoR also supports outreach travel that enables NSF staff from all directorates and offices to work with the EPSCoR research community on NSF opportunities, priorities, programs and policies. This travel better acquaints NSF staff with the science and engineering accomplishments, ongoing activities and new directions and opportunities in research and education in EPSCoR jurisdictions. Read more about specific outreach procedures.